REPAIRS AND MAINTENANCE
It is important that you read and understand the following information regarding our repairs & maintenance procedures of your Narishige equipment. This will ensure that you receive the service that you expect from us and the best service we can offer.

Please do not send us any equipment without prior notice !

This way we can advise you whether your item is repairable, if we can solve your problem remotely, or offer other guidance & support.
jump to a specific section
To book a repair, please complete our Repair Request form above.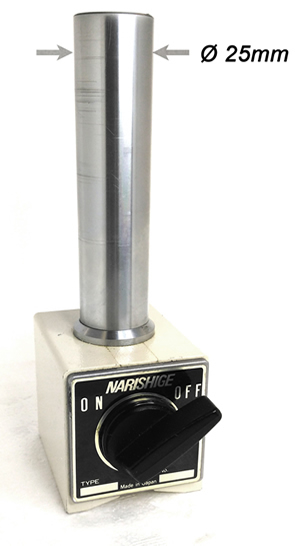 Please do not send us the Magnetic Stand of hydraulic micromanipulators.

It is very heavy, has the potential to damage your equipment in transit and increase transportation costs. We do not need it to complete the repair.

If the actual magnetic stand is damaged in some way, please contact us for advice.
---
PACKING
When sending your equipment to us the best way is to use the original product box.
If you do not have the original box, please follow our packing guidance below:
DELIVERY ADDRESS
Send your equipment for repair & maintenance to:
Narishige International Ltd.
Unit 7, Willow Business Park
Willow Way
London
SE26 4QP
United Kingdom
A basic administration & handling fee of EUR 40.00 will be charged for each individual product (carrying a model no.) that is sent to us for repair. We do not charge fixed fees for repairs. The cost is derived directly from the work that we deem necessary to return your equipment to good working order. Therefore costs will vary accordingly.

In most cases we can provide you with a Guide Cost for the repair of your product, which will be an approximate 'maximum cost' for a Standard repair.
An accurate Estimated Cost can be provided upon request after we receive your equipment.
We will request your acceptance of the costs in the form of a Purchase Order before starting any repair.
Return shipping costs are calculated at the time we arrange the return of repaired products (see Return Freight & Insurance). You can arrange freight collection if you do not want us to use our own shipping companies.
General turnaround time for a Standard repair is 2-3 weeks. We will inform you of expected turnaround times when we send our Guide or Estimated Cost.
We may be able to provide a non-guaranteed Express service (5-7 days) upon your request, which will be provided free of charge at our discretion. If you have an urgent repair request please make sure to inform us as soon as possible.

We have a limited amount of equipment available to loan whilst your product is being repaired. Contact us for availability.
We require a formal Purchase Order for each individual repair job (not item) that is booked with us. Your PO should be faxed or sent as a .pdf only, should be on your institution's official letter-headed paper and must include the following details:
Order Number
VAT number
Delivery address
Invoice address
Contact Name
Contact Telephone number
Details of the equipment (Model & Serial Numbers)
If you do not have an existing purchase order template please complete the provided Purchase Order Form here.
We operate two payment categories for customers: PRE-PAYMENT and NET-PAYMENT
Net-Payment customers:

After your equipment is repaired we will make a formal invoice to your account and arrange shipping of your items. When to pay by is set out on the invoice.

Pre-Payment customers:

After your equipment is repaired we will send you a Pro-Forma invoice along with our banking details. Once you have made payment in full and our bank shows that the payment is cleared, we will make a formal invoice on your account and arrange shipping of your items. If you are unsure which payment category applies to you please contact us.
We accept payment via bank transfers and debit/credit card. Our base currency for transactions is the EURO. For more payment information please visit PURCHASES FROM US.
In general principle, Universities, government bodies and national institutions are classed as NET-PAYMENT customers. Private companies, organisations and individuals are classed as PRE-PAYMENT. If you would like to find out more, please feel free to email us or call +44 (0)20 8699 9696
Narishige International Ltd offers you a warranty on all repaired parts and/or solved problems for six months from the date of the original repair invoice. The warranty covers repaired parts or solved problems only - it does not cover the whole product. If your product was purchased less than a year ago from Narishige International Ltd, then we may offer you a repair / replacement service free of charge under the product's sales warranty - please contact us in the first instance before sending us your equipment.
Whilst we try to support repair of all Narishige equipment, repair of some older equipment may not be possible due to the lack of available parts etc. Please accept that we cannot guarantee ' as good as new ' repair for products which were manufactured over 10 years ago or have since been discontinued.

Please read our policy regarding servicing of equipment 15 years or older from date of manufacture
As the customer you may cancel a repair job at any time but note the following responsibilities and liabilities:
A basic administration & handling fee of EUR 40.00 will be charged if you cancel a repair job already received by us.
You, the customer are liable for all return freight & insurance costs.
If a repair job that requires a custom-made part is cancelled, it is the customer's responsibility to ensure that we receive a notification of their wish to cancel the repair before the part has been ordered; otherwise the customer will be liable to pay the full cost of the custom-made part in addition to all other related charges.
Narishige International Ltd may cancel a repair job that has been sent to us if e.g. replacement parts are not available; extensive damage etc. In this instance there will be a basic administration & handling fee of EUR 40.00. Additionally, the customer is still responsible for the return freight costs if they wish us to return the un-repaired equipment.
The cost of return freight & insurance will be calculated after your equipment is repaired and packed. We will return only Narishige original product boxes. If you wish for us to return any of the packaging in which your item was sent to us, please let us know before we receive your package.
We use the following shipping companies:
EU - FEDEX EXPRESS UK
Israel & Turkey - UPS
United Kingdom - DPD
You may also arrange freight collection with your own shipping company.
We have set out these general procedures to ensure you receive a high-level of service and communication for your repair & maintenance needs.
We are happy to receive any feedback you have on these procedures or hear any requests you may have at any time.
If you would like further clarification of any of information provided here, please contact us at eurosales@narishige.co.uk
Our general terms & conditions can be found at: